Three clips with three messages the Oscars wanted to deliver
Comments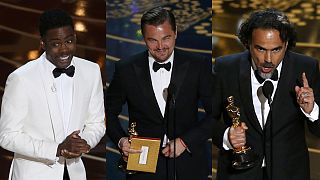 From Chris Rock on why the Oscars are a bit racist, to Leonardo Di Caprio on why global warming is making life hard for film-makers, the Oscars carried a number of messages aimed at the wider public.
Best director Alejandro González Iñárritu also joined in with a pithy yet powerful call for change.
Sometimes couched in a more light-hearted tone, sometimes delivered straight it's no surprise that the film industry really knows how to communicate a point.
Click on the video above to watch the clips.