Hungarians celebrate as holocaust drama Son of Saul wins Best Picture oscar
Comments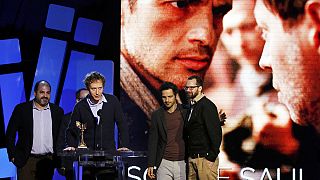 Hungarians have been celebrating the award for Best Foreign Language Film that went to holocaust drama 'Son of Saul'.
The award comes after the film's victory in the same category at the Golden Globes as well as winning the Grand Prize at Cannes where it premiered in May.
In his acceptance speech director László Nemes made clear the project was more than just his:
"I want to share this with Géza Röhrig, my main actor, and the incredible casting crew that believed in this project when no one else did."
Part of the film's attraction was the understated musical score. Back in Budapest the composer László Melis explained his thinking:
"In the end we came up with music which is barely audible. Actually it was really just atmosphere, the noise, and then I laid down the music, you can hear it if you listen carefully."
'Son of Saul' was the ninth Hungarian film to be nominated for the Oscar and the first one since István Szabó's 'Hanussen' in 1988.
Co-written by director László Nemes, 'Son of Saul' tells the true story of Saul Auslander, a Hungarian Jewish prisoner forced burn the bodies of his own people in Auschwitz.
He finds redemption by salvaging the body of a young boy from the flames and trying to arrange a proper Jewish funeral for him.
"That many people are talking about this film is important because now so many more people are hearing about it," said the film's Directory of Photography, Mátyás Erdély, after the Golden Globes ceremony. "That's the essence. If all the publicity surrounding it means people who wouldn't normally have thought of going to see the film before, now go and see it, then that's what's important. That's what all this is publicity is good for."
The #Oscar-winning SON OF SAUL is historical film at its boldest and most brilliant. See it. https://t.co/7BPRfU1blBpic.twitter.com/1IwimgeXau

— Tribeca (@Tribeca) February 29, 2016
'Son of Saul' has been described as a work of remarkable power and a chilling investigation into the intimate mechanics of mass murder.
Our correspondent in Budapest said that after the success of 'Son of Saul' in the Golden Globes many people were hoping it would win an Oscar. The film has been praised by critics around the world and will help to open doors for other Hungarian filmmakers.