Over 100,000 gather in Baghdad to urge government to carry out reforms
Comments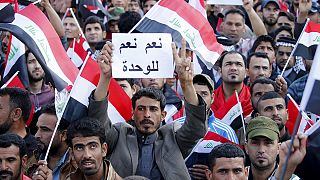 More than 100,000 people gathered in Baghdad's Tahrir Square to
urge Iraqi Prime Minister Haider al-Abadi to follow through with promised political and economic reforms.
Anti-American Shi'ite cleric Moqtada al-Sadr led the protest. He threatened consequences if decisive action to implement the changes and stamp out corruption is not taken soon.
"Today we are at the walls of the Green Zone international area. Tomorrow people will enter to claim back their rights from the corrupt and the unjust," he told the crowd.
Sadr accused the prime minister of failing to make use of the support offered by Iraq's highest Shi'ite religious authority. Despite initially endorsing the reforms, Grand Ayatollah Ali al-Sistani appears to have become disappointed with the lack of progress.