Wow, it's time to do more than just 'like' - emojis arrive on Facebook
Comments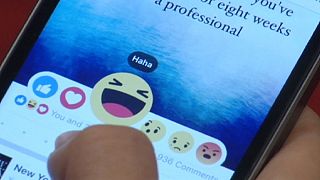 Facebook newsfeeds began to transform on Wednesday as 'reaction' buttons arrived on the social media site.
Five emojis have been added alongside the seven-year-old 'like' button, enabling users to express a wider range of reactions to Facebook posts.
There is a 'love' button (a picture of a heart) – along with buttons showing faces that depict different emotions: 'ha ha', 'wow', 'I'm sad' and 'I'm angry.'
"It is an extension of the 'like' button and allows you to react to stories from your friends or you see in your newsfeed, not just by liking it but by expressing a lot of different emotions," explained Facebook Product Design Director, Julie Zhuo.
"We're doing this because we've heard feedback from people over and over again that they wanted more ways to be expressive, because people share a variety of things on Facebook."
.Facebook</a> game changer! See the new <a href="https://twitter.com/hashtag/Facebook?src=hash">#Facebook</a> <a href="https://twitter.com/hashtag/buttons?src=hash">#buttons</a> yet? They&#39;re a year in the making! <a href="https://t.co/4DnBdOYDvN">https://t.co/4DnBdOYDvN</a> <a href="https://t.co/f2CktnIf3W">pic.twitter.com/f2CktnIf3W</a></p>&mdash; Mondo (Mondo_agents) February 24, 2016
The move got the thumbs down from some critics, however, who say a 'dislike' button is what users most want, and it is long overdue.
#Facebook now gives six different options to show emotions on a post, BUTSTILL NO DISLIKEBUTTON! #dislike

— Sarah Tomkinson (@SarahTomkinson1) February 24, 2016
So #Facebook launched #FacebookReactions but there is still no #Dislike option! #Angry & #Sad doesn't really depict Dislike.

— Vanessa (@Noosiekins) February 24, 2016