Syria could fall apart if fighting continues, warns America's Kerry
Comments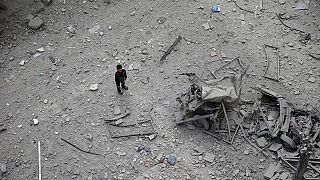 America is warning that unless fighting stops in Syria, the country could fall apart.
It comes as the government of President Bashar al-Assad and rebel groups accept a planned ceasefire, due to start on Saturday.
But Damascus is warning that there will be "violations" from other groups.
"The Syrian state for sure respects that (the ceasefire) which it agreed to, and will uphold it on principle. But I can't speak on behalf of the armed groups which, pre-emptively, announced that they are not willing to agree to the ceasefire," said Ali Haidar, Syrian Minister of National Reconciliation.
The truce, announced by the US and Russia, will include Syrian government and opposition forces, but not ISIL or the al-Qaida-affiliated Nusra Front.
"Someone's going to have to sit down at a table and arrive at an understanding about what Syria is going to be," said John Kerry, US Secretary of State.
"But it may be too late to keep it as a whole Syria, if we wait much longer. So that's what's at issue here."
Kerry also warned that if there is no political transition to replace the current government, Assad will face "Plan B" options. This, a reference to undefined proposals, believed to include military action.