Hopes and fears for the Syria ceasefire
Comments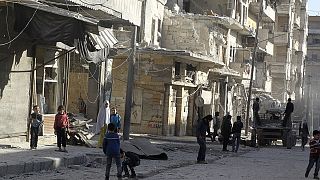 The US and Russia announce ceasefire in Syria
Truce takes effect at midnight, 27 February
Excludes action against

ISIL

, the al-Qaeda-linked Nusra front and other militants
Critics say this loophole will allow attacks to continue
The United Nations
Monitoring the ceasefire in Syria could be a big challenge for the United Nations.
However, officials admit monitoring the truce could be a big challenge.
Vitit Muntarbhorn from the UN Commission of Inquiry on Syria said: "We hope that all three elements will be well-implemented, bearing in mind that, for us, in regards to humanitarian access to besieged areas, and also the need to release those who are arbitrarily detained such as women, children – these elements are not conditional."
"They should take place immediately in terms of access to besieged areas as well as release of women, children and the aged."
Başbakan Davutoğlu, Jan Eliasson'ı kabul etti https://t.co/aQmM5pgK9Upic.twitter.com/6vVqkW4g13

— Gazeteci Ali Erturan (@GazeteciAli) February 22, 2016
Deputy Secretary General Jan Eliasson is also discussing with Turkish officials whether they can open the border to the thousands fleeing the fighting in Aleppo.
There is no military solution to the Syrian conflict – Jan Eliasson met w/ refugee families in Turkey this weekend pic.twitter.com/RFOhB3xBR2

— United Nations (@UN) February 21, 2016
Around 100.000 people are stranded on the Syrian side of the border at the Oncupinar crossing.
Turkish President Recep Tayyip Erdogan prefers the setting-up of a "safe zone" perimiter inside the Syrian border.
Turkey
Turkey has welcomed the US and Russia-brokered ceasefire plan for Syria.
Vice prime minister Numan KURTULMUŞ said that USA and Russia must not be stupid in Syria pic.twitter.com/Y1HSc85Tjr

— Quardo Zagros (@quardozagros) February 15, 2016
Deputy Prime Minister Numan Kurtulmus says he hopes Moscow will now stop carrying out air strikes in support of the Syrian government.
Asked about Turkish artillery fire on YPG positions in northern Syria, Kurtulmus said Ankara maintained its right to defend its borders.
Turkey has been shelling YPG positions inside Syria for more than a week.
Ankara sees the militia as an extension of the outlawed Kurdistan Workers Party or PKK. The group has fought a three-decade insurgency for autonomy in Turkey's mainly Kurdish southeast.
Russian bombing has transformed the five-year-old Syrian conflict, swinging the momentum decisively in favour of Moscow's ally, President Bashar al-Assad.
However, relations between Moscow and Ankara were impacted last year after Turkey shot down a Russian military plane over Syria.
Ankara now accuses Moscow of deliberately targeting civilians in Syria.
What they are saying
"I think the danger that this could turn into something even more dangerous unites everyone right now." – UN Deputy Secretary General Jan Eliasson.
"We hope that this ceasefire will continue positively and no one will try to carry out air strikes and kill innocent people while the ceasefire continues. We hope all the groups in Syria, including the moderate opposition, will take part in rebuilding Syria at the end of the negotiations that will continue for six months." – Turkish Deputy Prime Minister Numan Kurtulmus.