Syrian government and opposition groups 'accept ceasefire plan'
Comments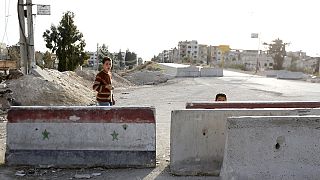 The Syrian government said on Tuesday that it accepted a halt to "combat operations" in line with a US-Russian plan, and said it would coordinate with Moscow to decide which groups and areas would be included.
It said in a statement it stressed the importance of sealing the borders and halting foreign support to armed groups, to prevent them from strengthening their positions.
The main umbrella group for Syrian opposition organisations is also reported to have agreed "to a temporary truce" as long as its main demands are met.
#BREAKING: #Assad's regime accepts a truce except in fighting #ISIS, Nusra and "other terrorist groups." #Syriahttps://t.co/cNCkI96OYo

— Al Arabiya English (@AlArabiya_Eng) February 23, 2016
Government and opposition had been given until noon on Friday to indicate whether they would comply with the agreement due to become effective at the weekend.
The ceasefire task force that is part of the 17-nation International Syria Support Group said it would be seeking assurances from the various parties that they will abide by the plan.
The caution surrounding the deal announced yesterday by the US and Russia underlines the obstacles that remain.
The truce does not apply to two of the most deadly groups, ISIL and the al-Qaeda-linked Nusra Front.
Significantly it allows both Syrian army and allied forces, as well as opposition fighters, to use "a proportionate use of force" in self-defence.
In Damascus some expressed hope – though others were sceptical.
"It's better not just for the government and for the opposition but for all the people in Syria," said Yasser Daba, owner of the Finjian coffee shop in the Syrian capital.
"It will not work because the terrorists don't have any decision-makers. They are getting all the decisions from outside politics. And our government they have the decision to stop the fire but the problem is that they will not accept this decision from our government," said Damascus resident Tarek Al Nawat, striking a more sceptical note.
A proposed "cessation of hostilities" in Syria raises more uncertainty than optimism https://t.co/fsroopTQ0cpic.twitter.com/pZ6eSnfcWR

— New York Times World (@nytimesworld) February 23, 2016
One opposition monitor, the UK-based Syrian Observatory for Human Rights, said on Tuesday that new air strikes believed to be carried out by Russian jets had targeted rebel-held areas of Aleppo. Meanwhile a government supply route to the area was reported to have been blocked for a second day because of an attack by ISIL.
Monitoring the planned "cessation of hostilities" will present a daunting challenge for the United Nations.
All previous attempts to talk peace have failed to stop scenes of carnage.
Some 150 people were said to have died in bombings in Homs and in Damascus on Sunday alone.
An exact figure for the number of people killed since the conflict began in March 2011 is difficult to come by. However the British-based Syrian Observatory for Human Rights estimates that at least 370,000 have lost their lives. Around seven million people are thought to have been internally displaced in Syria and another four million have fled the country.
'Diplomatic progress in #Syria welcome news, must be matched by action' Exec Dir Tony Lake https://t.co/TGwojumNwFpic.twitter.com/xahlRO25z2

—

UNICEF

(@UNICEF) February 23, 2016