Prince Ali's FIFA presidential election delay rejected
Comments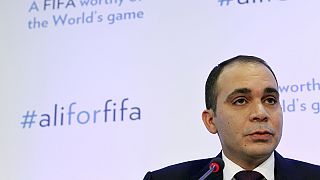 FIFA presidential candidate Prince Ali Bin Al Hussein has had his attempt to delay the elections rejected by the Court of Arbitration fro Sport (CAS).
The Jordanian royal was unhappy with voting arrangements and wanted transparent voting booths set up to ensure the election was fair and avoided secret dealings through mobile phones.
Prince Ali is one of five contenders looking to succeed the Swiss.
But he is considered an underdog in a what has turned out to be two horse race with UEFA's secretary general Gianni Infantino and Asian Football Confederation president Sheikh Salman bin Ebrahim al-Khalifa the favourites.
The elections take place in Zurich on Friday and will be broadcast live on Euronews