Blatter and Platini bans reduced from eight to six years
Comments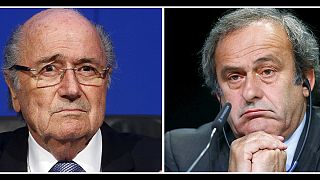 Outgoing FIFA president Sepp Blatter and his once likely successor – suspended UEFA chief Michel Platini on Wednesday had their eight-year bans from all football-related activity reduced to six.
The FIFA appeals committee ruled that the bans handed down to the pair by the ethics committee were too harsh.
The bans relate to a 1.8 million euro ''disloyal payment'' Blatter made to Platini in 2011 for services provided nine years earlier.
The investigatory arm of the ethics committee had been looking for life bans for the pair.
Wednesday's decision means that neither Blatter, FIFA president for 18 years, nor his one time heir apparent will be able to stage a remarkable return ahead of Friday's extraordinary congress, which will see a new president of world football's governing body elected.
Both continue to deny any wrongdoing and are now expected to take their case to the Court of Arbitration for Sport.