US presidential contender Cruz fires spokesman over fake video
Comments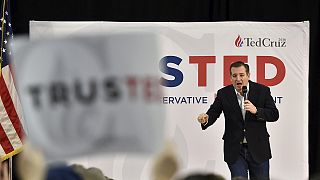 US Republican presidential contender Ted Cruz has fired his main spokesman, ahead of the Nevada caucuses.
It is over a video that falsely showed rival Marco Rubio dismissing the Bible.
The spokesman, Rick Tyler, had apologised for posting an "inaccurate story" on the video.
Rubio, meanwhile, is enjoying some boosts – and not only from the Cruz campaign mishap.
He has a secured a string of high-profile endorsements from prominent Republicans.
Rubio got second place in South Carolina's primary on Saturday, fewer than 1,000 votes ahead of Cruz. Donald Trump was the big winner in that state, securing a comfortable margin of victory.
Opinion polls show Rubio and Cruz running close in Nevada.
Both candidates are desperate for good news, going into contests in a dozen states next week, on what is known as Super Tuesday.