Netanyahu defends his top general after he calls for restraint
Comments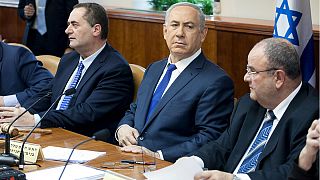 Netanyahu defends army chief over issue of reasonable force
Debate rages as wave of violence continues
The mounting cycle of violence across Jerusalem and the West Bank has brought the issue of reasonable force to the fore.
The debate stems from ignorance or an attempt at political bashing and it is wrong
28 Israelis and one US citizen have been killed by Palestinians in a wave of stabbings and shootings that began last October.
168 Palestinians have died in confrontations with Israeli forces.
As well as the number, it is the manner of some deaths that is causing controversy.
Army Chief's comments
The head of the Israeli Army has faced strong criticism for urging his soldiers not to overreact.
Some critics say Lieutenant-General Gadi Eisenkot's call for restraint undermines those on patrol.
Others fear it could be read as an admission of guilt.
Don't Be So Fast to Praise the Good Israeli Army Chief of Staff Gadi Eisenkot https://t.co/UcDCtvvjxs [Gideon Levy] pic.twitter.com/kiiday4yW8

— The

IMEU

(@theIMEU) February 19, 2016
Speaking before an audience, Eisenkot said he would not want his soldiers to overreact when confronted by an armed attacker.
He was referring to the death of a Palestinian teenager who stabbed an elderly Jewish man last November.
CCTV from the scene showed an Israeli officer firing repeatedly at the girl as she lay motionless on the ground.
Netanyahu defends the army chief
Prime Minister Benjamin Netanyahu says the row over the comments has a hollow ring to it.
"The chief of staff stated the obvious and, in any case, the IDF and security forces operate accordingly. The debate stems from ignorance or an attempt at political bashing and it is wrong."
The debate
Opinion has been sharply divided over Lieutenant-Generale Eisenkot's comments.
"Rabbis and right-wing lawmakers on Thursday took IDF Chief of Staff Lt. Gen Gadi Eisenkot to task for stating… https://t.co/gdby7qOuc3

— David Forde (@Forde4Stretton) February 20, 2016
Words of sanity from IDF Chief of Staff GadiEisenkot</a> & DM <a href="https://twitter.com/bogie_yaalon">bogie_yaalon. For Bayit Yehudi such nuance = disloyalty https://t.co/cwS5Vt9f3B

— Brian Reeves (@BrianNReeves) February 19, 2016
#IsraeltheRegion#IsraelInside#GadiEisenkot#IsaacHerzog Herzog: PM abandoned IDF chief after he advocated troop… https://t.co/I9BjgfjPAv

— Israel News (@IsraelNewsNow) February 20, 2016
Ynet op-ed: IDF Chief of Staff Gadi Eisenkot is 'the leading moral figure' in 'the country's leadership' https://t.co/aQYzsrCim8

— JamieSW (@jsternweiner) February 20, 2016
What they are saying
"When fighting terror, especially the kind that we are experiencing now, one must use minimum necessary force and not maximum possible force." – Housing Minister Yoav Galant.
"He has the full backing of all government ministers, especially myself, and we work great together in cooperation between police forces and IDF forces in all areas in order to try and end this wave of terror we are in." – Minister for Internal Security Gilad Erdan.
"We have an excellent chief-of-staff who merely repeated the familiar orders for opening fire." – Education Minister Naftali Bennet.