Bush bows out of Republican race as Trump triumphs in South Carolina
Comments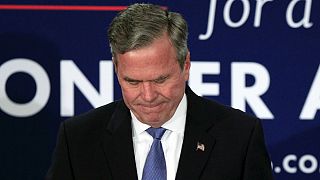 His campaign for the Republican presidential nomination never got off the ground.
And with a distant fourth place finish in South Carolina on Saturday, Jeb Bush's dream of becoming the third US president in his family, after his father and brother, has finally came to an end.
Acknowledging his lack of success in the contest, he told supporters:
"The people of Iowa, New Hampshire and South Carolina have spoken and I really respect their decision so tonight I am suspending my campaign."
Thank you.https://t.co/UWuRQccifU

— Jeb Bush (@JebBush) 21 Février 2016
There were different fortunes for frontrunner Donald Trump who coasted to victory in South Carolina.
With 99 percent of precincts reporting, Trump had 32.5 percent, followed by Florida Senator Marco Rubio with 22.5 percent and Texas Senator Ted Cruz with 22.3 percent.
The outspoken billionnaire businessman's second primary win in a row puts him in poll position to win the Republican nomination ahead of November's US election.
"There is nothing easy about running for president I can tell you. It is tough, it is nasty, it is vicious, it is beautiful," Trump, 69, said in his victory speech.
"When you win it is beautiful and we are going to start winning for our country!"
What a great night. Thank you South Carolina, a special place with truly amazing people! LOVE

— Donald J. Trump (@realDonaldTrump) 21 Février 2016
Rubio and Cruz, meanwhile, are still battling for the right to declare themselves the anti-Trump alternative.