Under fire over new migrant quotas, Austria says stricter limits are needed
Comments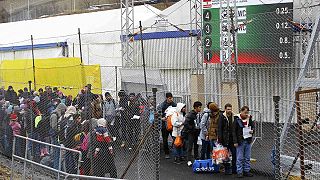 Its new migrant quotas have infuriated other EU states.
But Austria, the last stop en route to Germany for hundreds of thousands of refugees who have flocked to Europe, says it will have to introduce even stricter limits in the future.
Under the scheme, each day Austria is restricting asylum claims at the border to 80 while letting a maximum of 3,200 other migrants transit its territory.
"We have an aim, namely to reduce illegal migration" said the Interior Minister Johanna Mikl-Leitner.
"Each country must make its own decisions. I am very happy with ours. But everyone has to be aware that we cannot reach our overall goal with the current limits. This means that we will still have to reduce these limits."
Critics claim the curbs may violate EU and international humanitarian law. They are also a blow to the bloc's attempts to share the burden of the migration crisis more evenly among member states.