Touadera hopes to heal rifts after winning CAR presidential poll
Comments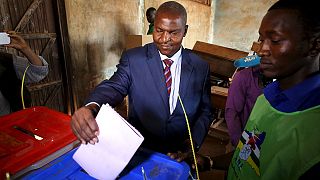 Reconciliation and recovery are the huge tasks facing the Central African Republic's new President Faustin-Archange Touadera, named the winner of a run-off election that it is hoped will turn the page on years of violent turmoil.
Former prime minister Touadera won 62.71 percent of votes cast in the Feb. 14 election, according to provisional results announced by the National Elections Authority (ANE).
His defeated rival Anicet Dologuele, also an ex-premier, topped the first round. He says he will accept the results for the sake of peace, despite what he called "massive fraud" in the latest ballot.
Touadera's spokesman called for calm and asked the country's population of 5 million to accompany the new leader in his pursuit of "reconciliation and recovery".
Foreign observers have praised the peaceful nature of the polls but have not yet commented on Saturday's results.
The Central African Republic descended into chaos in 2013 when mainly Muslim Seleka rebels seized power in the majority Christian country, sparking reprisals from Christian militias.
Thousands of people have died and a fifth of the population have fled their homes, either internally or abroad, to escape the violence, leaving the impoverished country divided along ethnic and religious lines.
A 'forgotten crisis', the Central African Republic rarely makes the headlines https://t.co/wPucSfCysIpic.twitter.com/cADxqy10Iy#CARCrisis

— UN Refugee Agency (@Refugees) February 18, 2016