Britain's EU future in the balance as crunch summit continues
Comments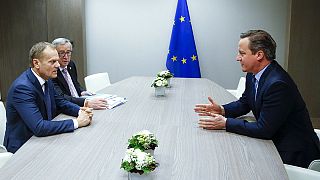 No one thought it was going to be easy.
We have made some progress but a lot still remains to be done
But a deal on new membership terms to help keep Britain in the EU is proving more difficult and time-consuming than many had hoped, with more pressing concerns like Europe's migration crisis competing for attention at what is meant to be a two day EU summit.
"As you may know, also Britain was the subject of our talks today," European Council President Donald Tusk told reporters, late into Thursday night.
"For now I can only say that we have made some progress but a lot still remains to be done."
EU leaders hold make-or-break 'Brexit' summit https://t.co/0WM1xgj0z0pic.twitter.com/D2wsDH0L37

— AFP news agency (@AFP) 18 Février 2016
On migration, the priority is a joint plan with Turkey to limit the flow of refugees to Europe. A meeting with Turkish leaders is planned for early next month.
EU bosses in Brussels reaffirmed that there was no alternative to member states working together.
"Before the meeting, there were those who doubted that a European approach was needed to resolve the refugee problem," European Commission President Jean-Claude Juncker told a news conference.
"We unanimously said this evening that the procedure must be European and that solo, national approaches are undesirable."
That view is shared by Alexis Tsipras, Prime Minister of Greece, at the forefront of the migration crisis.
We must all stand united and show #solidarity across Europe #EUCO#migrationEUpic.twitter.com/m0EVbxYlMW

— Alexis Tsipras (@tsipras_eu) 18 Février 2016
It leaves the thorny issue of Brexit, with Prime Minister David Cameron hoping to head home with a deal that he can sell to the British people ahead of an in-out referendum.
Our correspondent in Brussels, Sandor Zsiros, says that according to leaked information there has been a big debate behind the scenes with the United Kingdom about the duration of the period in which benefits for EU migrants could be limited.
An EU diplomat says the leaders are preparing for long negotiations on Friday.