Brexit a 'certainty' if EU deal fails, says UKIP's Farage
Comments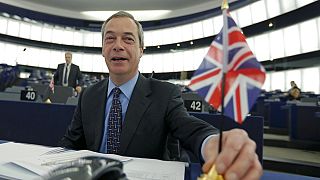 Leader of the UK Independence Party, Nigel Farage, has told euronews that the outcome of discussions in Brussels over an EU reform deal for Britain will have "enormous" implications.
The substance of the agreement, the deal, is limited but the implications of what comes out of tonight is enormous
Farage has long been critical of the package being pushed for by Prime Minister David Cameron, describing it as "pitiful."
Sandor Zsiros, euronews: "What do you expect from this summit here in Brussels?'
Nigel Farage, MEP, UK Independence Party: "I expect a lot of theatre, I expect some of the east European countries to say 'we really must be tough about this.'
"I expect Mr Cameron to say there are really tough negotiations and in reality, I suspect most of it has been agreed already, and I think there will be an agreement tomorrow (Friday).
"I mean don't forget that Cameron's demands for the renegotiation were very limited in scope, he was not talking about powers back to Britain, he was not talking about a reduction of our membership fee, he was not talking about us taking back border controls, just one narrow area really. Can we limit migrant benefits for up to four years.
"All I would say is this, if they don't give him an agreement, then I would say Brexit is a certainty."
euronews: "Is Britain heading in the right direction?"
Nigel Farage: "No it is pathetic what the prime minister promised in his famous Bloomberg's speech three years ago when he said if he was re-elected as prime minister, he would have a referendum, he promised fundamental change in Britain's relationship with the EU and indeed reform of the EU itself.
"None of that is happening, we are fiddling around the edges with the limited issue of migrant benefits, and even on that, the original proposals has been water downed. So the substance of the agreement, the deal, is limited but the implications of what comes out of tonight is enormous."