Ugandans vote for president in closest contest for decades
Comments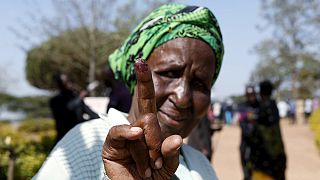 People in Uganda are voting in a presidential election in which all sides accuse each other of stoking tensions, violence and fraud.
The incumbent, Yoweri Museveni, who's been in power for three decades is seeking a fourth term in office. He is widely credited in the country as a force of economic stability and relative peace but his opponents have been using their campaigns to call for change and fresh leadership.
Museveni's long-time rival, opposition candidate Kizza Besigye, has pledged to boosting employment and tackling corruption. He's also warned of violent protests saying Museveni is unlikely to "go quietly."
The other leading candidate, former prime minister Amama Mbabazi, who until recently was a close ally of Museveni, has been trying to appeal to the youth vote.
Given the size and enthusiasm of crowds at opposition rallies the vote is expected to be the closest contest in decades.