[Gallery] Refugee picture wins World Press Photo 2015 award
Comments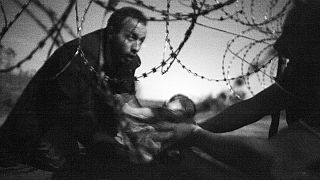 A picture taken among refugees trying to cross from Serbia into Hungary has won the World Press Photo of the Year award for 2015.
Australian photographer Warren Richardson says he spent days with refugees trying to evade police.
He took the photo at night using the light of the moon. It shows a father trying to pass his baby through a barbed wire fence. Outstretched hands are seen reaching to take the child.
Jury members described the picture – labelled "Hope for a New Life" – as haunting, subtle and symbolic.
Selected winners from World Press Photo 2015