Obama poo-poos Trump's presidential ambitions
Comments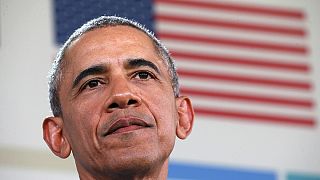 US President Barack Obama believes the Republican frontrunner in the race for the White House will lose out on the presidency.
Pres. Obama says "I continue to believe Mr. Trump will not be president." https://t.co/swzdVFpd2opic.twitter.com/bYQNQkwsqd

—

ABC

News (@ABC) February 16, 2016
Speaking at the Asean economic summit in California, the president was asked by a reporter about the presidential prospects for Mr Trump.
The two-term leader made his views clear:
"I continue to believe that Mr. Trump will not be President. And the reason is because I have a lot of faith in the American people. And I think they recognise that being President is a serious job. It's not hosting a talk show. Or a reality show."
The billionaire businessman took the out going president's opinion as a campaign boost: "This man has done such a bad job. He has set us back so far. And for him to say that is a great compliment if you want to know the truth."
Just a reminder: #Trump was Obama's biggest fan until he needed the racist demographic. #UniteBlue#libcrib#tcotpic.twitter.com/fQcMZi05ve

— Ania (@Magdalena0113) February 17, 2016
Trump response to Obama pic.twitter.com/1bM2a6Ndpt

—

TRUMP

TV (@SJavner) February 16, 2016
Trump won the state primary in New Hampshire and leads the polls in South Carolina where Republicans vote on Saturday.