Trump and Sanders claim victory in New Hampshire
Comments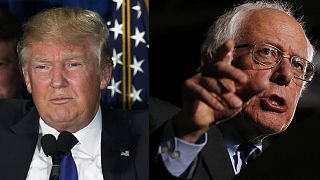 As the winners of the New Hampshire primary quickly became clear the victors, Republican Donald Trump and Democrat Bernie Sanders thanked their supporters.
Voters who are disenchanted with the economy and Washington politicians have responded enthusiastically to candidates who are challenging traditional political norms.
"Together we have sent a message that will echo from Wall Street to Washington, from Maine to California. And that is that the government of our great country belongs to all of the people and not just a handful of wealthy campaign contributors and their super Pacs", said Democratic candidate Bernie Sanders .
Win for Trump and Sanders in New Hampshire primary jolts political systemhttps://t.co/GpbKSnjyrypic.twitter.com/vbWDlbJIJj

— Times of India (@timesofindia) February 10, 2016
Elsewhere, at Republican HQ Donald Trump was surprisingly magnanimous:
"First of all congratulations to Bernie, you know in all fairness, we have to congratulate him. We may not like it. But I heard parts of Bernie's speech. He wants to give away our country, folks, he wants to give away. We're not going to let it happen."
The results, though decisive, did little to clear up confusion about who would emerge as the establishment contender to Trump on the Republican side, and the campaign of Sanders' rival, former Secretary of State Hillary Clinton, were defensive about her future prospects.