Trump boycotts Fox news debate but still takes centre stage in presidential race
Comments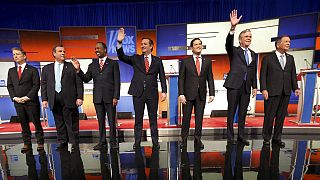 Presidential hopeful Donald Trump may have been absent from the Republican debate in Iowa on the Fox News channel on Thursday but that didn't stop him stealing the limelight.
Trump is boycotting Fox over a row with presenter Megyn Kelly. He refused to take part unless the channel removed her as one of the moderators, a demand that was turned down.
Kelly was keen to highlight the issue as she opened the debate:
"Senator Cruz, before we get to the issues, let's address the elephant not in the room tonight. Donald Trump has chosen not to attend this evening's presidential debate. What message do you think that sends to the people of Iowa?"
"Let me say," Ted Cruz replied. "I'm a maniac and everyone on this stage is stupid, fat and ugly. And Ben, you're a terrible surgeon. Now that we've gotten the the Donald Trump portion out of the way."
But just a few miles down the road Trump filled a hall at short notice with around 700 people. Billing the event as a benefit to veterans he was able to attract extensive coverage from CNN and MSNBC and social media.
#IACaucus • 2/1/2016 • 6:30pm #MakeAmericaGreatAgain!

Iowa caucus finder: https://t.co/ANvTcZqfOq#GOPDebatepic.twitter.com/HLuyCcuLcp

— Donald J. Trump (@realDonaldTrump) January 29, 2016
GOP candidates take their cues at the #GOPDebate from realDonaldTrump</a>&#39;s anti-Fox playbook <a href="https://t.co/ikkFvgckrb">https://t.co/ikkFvgckrb</a> <a href="https://t.co/4av9koNwwd">pic.twitter.com/4av9koNwwd</a></p>&mdash; CNN (CNN) January 29, 2016
Staying away from the main debate was undoubtedly a risk for Trump, but his supporters feel it was a risk that will pay off in the end.