First big aid shipment delivered in Syria
Comments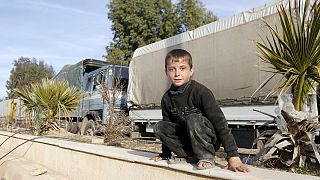 The UN has confirmed that the first large shipments of aid have made it through to five besieged towns in Syria.
Aid convoys with food and medical supplies for almost 100,000 people left the capital Damascus on Wednesday.
The Syrian government has approved access to seven besieged areas, the United Nations said after crisis talks in Damascus on Tuesday, a week ahead of a planned resumption of peace talks between Syria's warring parties.
The aid convoys headed to Madaya, Zabadani and Mouadamiya al-Sham near Damascus, and to the villages of al-Foua and Kefraya in Idlib province in the northwest, five of the locations named by the United Nations, a spokesman for the Red Crescent said.
But the UN wants more access, estimating it needs to help nearly half a million people in around 15 besieged areas of Syria, and over four and a half million people in hard-to-reach areas.
One convoy reached Madaya, near the border with Lebanon, but not before dozens starved to death after months of siege by government forces and their allies.
In all 250,000 people have been killed in five years of fighting. Talks are scheduled to resume on February 25, but fighting continues unabated throughout the country.