Claim and counter claim over Syria 'war crime' hospital bombings
Comments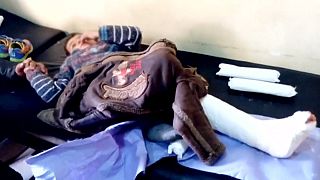 The latest slaughter in Syria is a war crime say France and Turkey.
For the United Nations, Monday's missile attacks on hospitals and schools in rebel-held areas of the north that left up to 50 civilians dead, were a blatant violation of international law.
With one of its hospitals reduced to rubble, Médécins Sans Frontières – Doctors Without Borders – says either the Syrian government or its main supporter Russia was responsible.
"All staff in the field, the medical staff, the patients, they immediately report, they said: 'Those are airstrikes from the Russians' but at the same time the information was not so clear because other people in the area, other staff reported that the shelling was coming from the ground," said Isabelle Defourny, Head of Operations with MSF France.
At least seven killed and eight missing in another #MSF-supported hospital attack in Idlib province - #Syriapic.twitter.com/IpMXJv3d9N

— أطباء بلا حدود سوريا (@MSF_Syria) 15 Février 2016
Russia is being widely blamed including by Turkey although Syria's ambassador in Moscow insists that American war planes were behind the attack on the medical charity's facility in Idlib province.
White House National Security Adviser Susan Rice says the US has "put a premium on trying to halt the violence".
"We have condemned that in the strongest terms and we think it runs counter, frankly, to the commitments made in Munich on Friday and to our shared interest in seeing the violence reduced, civilians allowed to receive humanitarian assistance, which is of critical importance," she told reporters in California.
Further complicating the conflict, Turkey is now shelling Kurdish positions in northern Syria, fearing the expansion of Kurdish influence there will encourage separatist ambitions among its own Kurds.
The United Nations Security Council will on Tuesday discuss Turkey's shelling at the request of Russia, which has voiced concern about Turkish military attacks on Russian-backed Kurdish militia fighters, according to an email exchange, as reported by Reuters.
The international standoff over Syria has increased the risk of direct confrontation between Russia and NATO member Turkey. Relations between Moscow and Ankara deteriorated sharply after the Turkish military shot down a Russian warplane in November along the Turkish-Syrian border.
Russia and Turkey are edging closer to direct confrontation in Syria's war https://t.co/gQdhqIWmpepic.twitter.com/wQAOIHKJQO

— Financial Times (@FT) 15 Février 2016
The Syrian civil war, reshaped by Russia's intervention last September, has gone into an even higher gear since the United Nations sought to revive peace talks. Those talks were suspended earlier this month in Geneva before they got off the ground.
World powers agreed in Munich on Friday to a cessation of hostilities in Syria to allow humanitarian aid to be delivered, but the deal does not take effect until the end of this week and was not signed by any warring parties.