Turkey mulls ground operation in Syria
Comments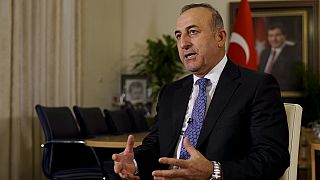 Turkey's foreign minister said some countries wants boots on the ground in Syria. But he said the offensive must be carried out jointly, like the coalition air strikes.
"Turkey, Saudi Arabia and even some European countries are in favor of a ground operation in Syria," said Mevlut Cavusoglu. "But it would not be realistic for Turkey, Saudi Arabia and Qatar alone to conduct ground operation in Syria."
Turkey cross-border shelling
Turkey shelled Kurdish-held positions in northern Syria on Tuesday, according to the country's Dogan news agency.
Ankara has been shelling Kurdish positions near the town of Azaz to the north of Aleppo since Saturday.
Turkey had warned Kurdish fighters they would face the "harshest reaction" if they tried to capture a town near Turkey's border.
The Syrian Observatory for Human Rights said the Kurdish-backed Syria Democratic Forces seized a village just west of the town of Marea.
Saudi military approach questioned
Iran's foreign minister questioned Saudi Arabia's approach with members of the European Parliament Committee on Foreign Affairs.
"We have said there is no military solution to the Syrian crisis," Zarif said. "Our Saudi neighbours are saying publicly that there is a military solution. Are they going to impose a military solution or are they willing to fight until the last NATO soldier in order to impose a military solution?"
Zarif comments came as hundreds of thousands of soldiers from Egypt, Pakistan and Jordan arrived in Saudi Arabia for joint military drills, said to be the largest ever in the region.
The so-called Northern Thunder exercise will include air, sea and land forces.