Russia rejects 'war crime' accusations after hospital airstrikes
Comments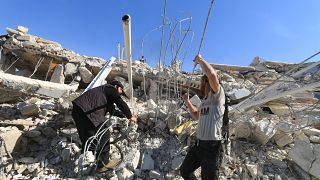 Russia has strongly rejected accusations of war crimes after dozens of people were killed in strikes on medical facilities in rebel-controlled areas of Syria.
Turkey's prime minister said a Russian missile had hit the buildings.
Ankara's foreign ministry accused Russia of carrying out what is said was an "obvious war crime."
"Both reports about allegedly destroyed hospitals and schools in Azaz on February 10 and in Idlib – February 15, contain the same source – "Gaziantep, Turkey." It seems that information about where these fake documents had been written was published because authors or editors of this website just didn't notice it."
Meanwhile the United Nations envoy to Syria Staffan de Mistura met with the Syrian foreign minister in an unannounced visit to Damascas on Tuesday.
De Mistura told reporters after the meeting that they discussed how to resume suspended peace talks in Geneva and talked about deliveries of humanitarian aid.
''We have been particularly talking about the issue of humanitarian, unhindered access to all besieged areas, not only by the government but also by the opposition and by ISIL."
Syria's five-year conflict has killed nearly 250,000 people and driven eleven million from their homes.