Syria: at least 14 dead as missile strikes hit hospitals in Azaz and Idlib
Comments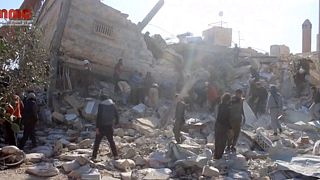 A Turkish security official says at least 14 civilians have been killed in Russian missile attacks on the northern Syrian border town of Azaz.
The Independent Doctors Association says at least 30 people were wounded.
It says the death toll is expected to rise. A children's hospital, a school and other buildings in the rebel-held town were reportedly hit.
In a separate incident, aid agency Médécins Sans Frontières — MSF — reports eight people are missing following strikes, while reports suggest nine people died.
MSF claims the air strikes deliberately targeted a facility it supports.