Turkish military shells Kurdish-backed positions in Syria for second day
Comments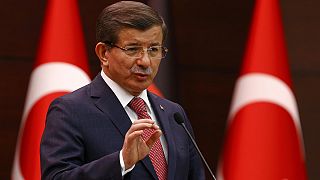 The Turkish army shelled positions held by Kurdish-backed fighters in northern Syria for a second day on Sunday (February 14), killing two fighters, the Syrian Observatory for Human Rights monitoring group said.
Turkey on Saturday (February 13) demanded the powerful Syrian Kurdish People's Protection Units (YPG) militia withdraw from areas that it had captured in the northern Aleppo region in recent days from insurgents in Syria, including the Menagh air base which was seized from the al Qaeda-lined Nusra Front. The shelling has targeted those areas.
The YPG controls nearly all of Syria's northern border with Turkey, and has been a close ally of the United States in the campaign against ISIL in Syria.
But Ankara views the group as an extension of the Kurdistan Workers Party (PKK), which has waged a three-decade-old insurgency for autonomy in southeast Turkey.
Prime Minister Ahmet Davutoglu said on Saturday the shelling had taken place under "the rules of engagement against forces that represented a threat in Azaz and the surrounding area."
He demanded that the Menagh base be evacuated and said he had spoken to US Vice President Joe Biden to stress that the PYD was an extension of the PKK and a direct threat to Turkey.
The PKK is considered a terrorist group by the US, Turkey and the European Union.
DETAILS: #Syria's Foreign Ministry sends letter to UN</a> slamming <a href="https://twitter.com/hashtag/Turkey?src=hash">#Turkey</a> over shelling <a href="https://t.co/deAgXKhxjB">https://t.co/deAgXKhxjB</a> <a href="https://t.co/7RZEDsEs1G">pic.twitter.com/7RZEDsEs1G</a></p>&mdash; Sputnik (SputnikInt) February 14, 2016