Turkey urged to stop assaults on Kurdish militias in Syria
Comments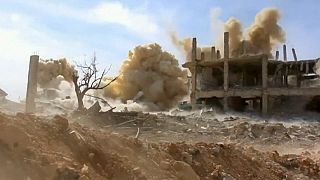 France calls on Turkey to halt assaults on Kurdish militia
Saudi Arabia prepared to participate in Syrian ground offensive
Obama and Putin agree need for aid
Turkey has dismissed calls from France and Germany to stop its shelling of Kurdish fighters in Syria. Ankara is targeting the YPG militia it sees as an extension of the banned PKK, a Kurdish group which is waging an insurgency on Turkish soil.
Among the targets hit by Turkey is the Menagh airbase, which was seized by the YPG on Thursday from Syrian Islamists. The YPG controls much of Syria's northern border with Turkey.
Saudi Arabia willing to send ground troops
Meanwhile Saudi Arabia has sent aircraft to a Turkish air base to join the fight against the jihadist group ISIL. The move according to Saudi Foreign Minister Adel al-Jubeir, it is also in anticipation of any escalation in hostilities.
"We have said that should the US-led coalition make a decision to introduce ground troops into Syria, the kingdom of Saudi Arabia would be prepared to participate by deploying special forces with those troops."
The increasingly complex situation doesn't as yet appear to have been eased by Friday's agreement by major powers to a limited ceasefire in Syria. Its due to take effect by the end of the week but Russia has continued its bombing of what it calls terrorists in support of the Syrian Regime. On Sunday US and Russian leaders spoke by phone agreeing the need to rush humanitarian aid to Syria.
On the ground the fighting around north of Damascus and around Aleppo goes on. The Syrian army has urged citizens to seek what its terms" reconciliation" with the government. So-called local agreements have been used by the regime to increase pressure on insurgents, forcing them to surrender.