Turkey points finger at Russia over Syria hospital attacks
Comments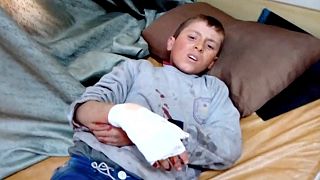 Visiting Ukraine, Turkey's prime minister pointed the finger at Russia over the strikes in Azaz. Earlier he'd warned Kurdish rebels of a harsh reaction if they tried to take the town.
Moscow has pledged to continue its strikes targeting ISIL and the al-Nusra group, arguing they're not covered by a proposed ceasefire.
"The fact that this statement is made despite the agreement reached in Munich clearly shows that Russia's intention is not to make peace or keep a ceasefire. It shows that Russia is ready to kill more civilians and perpetrate more massacres to keep the Syrian regime alive," Ahmet Davutoğlu said
Speaking on Russian TV, Syria's ambassador to Moscow Riad Haddad accused the United States of responsibility for the attack on the hospital destroyed in Idlib.
"Concerning the hospital that was destroyed, in fact, it was the work of the U.S. Air-Force. The Russian armed forces have nothing to do with that. Intelligence finds clearly testify it."