Syria hospital and school strikes kill 'up to 50' - UN
Comments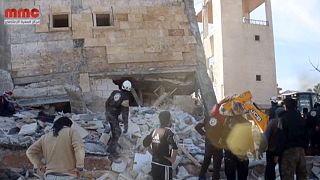 The United Nations says up to 50 people have been killed in missile attacks on hospitals and schools in northern Syria.
Médécins Sans Frontières – Doctors Without Borders – said seven people died and at least eight staff were missing after an air strike in the northwest.
Missiles struck a hospital in the town of Ma'arat al-Numan in Idlib province, MSF said.
The group called it a "deliberate attack", accused either the Syrian government or its leading supporter Russia of carrying it out.
A Syrian opposition group said a second medical facility in Ma'arat al-Numan was also hit.
In contravention of UN Cease fire & #IHL -An MSF supported hospital was attacked & destroyed this morning in #Syriapic.twitter.com/cGiGTfJMZQ

— Stephen Cornish (@Stephen_Cornish) February 15, 2016
At Azaz near the Turkish border other reports say at least 14 civilians including children were killed in an attack on several locations, among them hospitals and schools. Dozens were wounded.
Five people died when a children's hospital was hit, activists said.
Turkey claimed the damage was caused by Russian missiles.
The rebel-held town of Azaz lies on a major supply route for opposition fighters in Aleppo.
UNICEF said in a statement that it was "appalled" by reports of the attacks.
"In the name of our shared humanity we call for immediate action' – UNICEF re attacks of 4 medical facilities #Syriahttps://t.co/3QoGSAgVun

— mia farrow (@MiaFarrow) February 15, 2016
In an interview published in Spiegel on Monday, Russia's Deputy Foreign Minister said Russian troops would continue air strikes against the ISIL and Al-Nusra groups, despite a proposed ceasefire in Syria.
Turkey's Prime Minister Ahmet Davutoglu claims Moscow's goal is to leave just two options for governance in Syria: current President Bashar al-Assad or ISIL.
Speaking from Ukraine, he too blamed Moscow for the Azaz strikes and said children were among those killed. He added: "We can see that Russia's intention is to kill more civilians and carry out more massacres in support of the Syrian regime."
He claims Russia and the Kurdish YPG militia have closed the humanitarian border north of the Syrian city of Aleppo.
World leaders have agreed to work towards a cessation of hostilities in Syria within a week, but Russia argues the move does not apply to its air strikes.