Polls close in Central African Republic presidential run-off vote
Comments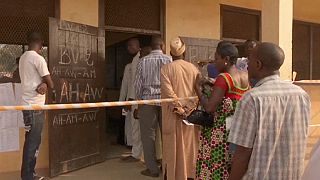 Voting has ended in Central African Republic's (CAR)presidential election second-round run-off.
Sunday's vote will bring to an end two years of transitional government in the former French colony.
Two former prime ministers are in the running for president: Anicet Georges Dologuele took about 24 percent of the vote in December's first round.
"The sense of duty and joy to vote in this second round has been an accomplishment, and so I participated in ending this transition and starting a new era for the Central African Republic," said Dologuele after casting his ballot in the capital city Bangui.
His rival, university teacher Faustin Archange Touadera, is known by his campaign slogan "The Man of the People." He took second spot with 19 percent in December.
"We hope that people will come out to vote in large numbers for our bid because our candidacy is one of togetherness and confidence," said Touadera.
Sectarian fighting between Muslim and Christian communities toppled former president Francois Bozize in 2013.
Thousands of people have been killed in the conflict and millions displaced.