CAR: voters go to polls in crunch elections
Comments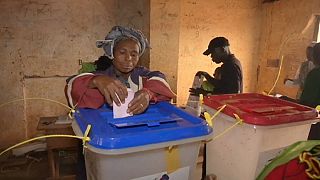 Voters have been casting their ballots in Central African Republic, in elections seen as crucial to restoring democratic rule and ending years of violence.
Two former prime ministers, Faustin-Archange Touadera and Anicet-Georges Dologuele, are contesting a presidential run off.
There is also a re-run of the first round of legislative elections, which were cancelled over irregularities.
"Everyone wants to vote, to bring peace and social cohesion because so many people have lost so much. We hope this election will bring things back to normal," said Catherine Loucoul, a Bangui resident.
Central African Republic was plunged into crisis in 2013, when mainly Muslim Seleka fighters toppled Francois Bozize.
Christian militias responded to Seleka abuses, attacking the Muslim minority community.
Thousands have died and one in five people have fled their homes.
Both Dologuele, a banker, and trained mathematics professor Touadera have made the restoration of peace and security the centre-piece of their presidential campaigns. Both candidates are Christians.
Touadera has portrayed himself as an anti-corruption stalwart, while Dologuele pledges to revive the economy and draw in investors hesitant until now to exploit significant gold, diamond and uranium deposits.