Zika virus: Colombian doctors report hike in rare nerve disorder cases
Comments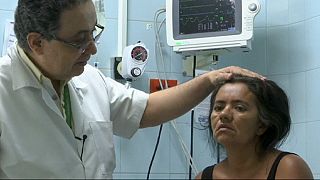 Amid mounting global concerns over the Zika virus, Colombian doctors say they are seeing a hike in cases of a rare disorder, in which the body's immune system attacks the nerves.
It was just recently that health officials announced that three people, who had died of Guillain-Barre, were also infected with Zika.
Another six deaths are being investigated.
"We would have between 25 and 30 cases annually, in the entire department of North Santander. Now in the department, we have had 30 cases in the last month-and-a-half," said Dr Jaime Lizarazo, a neurologist.
"That is to say that the incidence has increased more or less ten times what is expected."
Most international experts are cautious about whether mosquito-borne Zika triggers Guillain-Barre because it can also be caused by other conditions.
In Venezuela, three people are said to have died of complications linked to Zika, with more than five-thousand suspected cases of the virus.
Meanwhile, Brazil is launching a mass education campaign involving the military.
"The risk is in the entire state, actually the country and in all the tropical areas of the planet. So Zika represents an emergency for public health and it demands different actions that are already being taken," explained Alexandre Chieppe, Under Secretary of Health for Rio de Janeiro State.
"The idea is to join efforts to visit twice, 100 percent of buildings in the first three months of the year in Rio de Janeiro."
Alongside the suspicions about Zika and the Guillain-Barre disorder, Brazil's health minister says he has no doubt that Zika is linked to a rare birth defect called microcephaly. This, despite what others see as a lack of scientific proof.