WHO concerned over Zika sexual transmission reports
Comments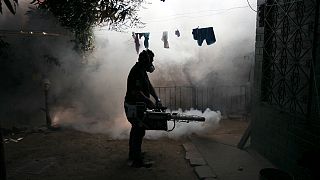 The World Health Organization (WHO) has voiced its concern over reports that a case of the Zika virus contracted in the US state of Texas was transmitted sexually.
Every European country in which Aedes mosquitoes are present can be at risk for the spread of Zika virus disease.
As the outbreak quickly spreads across the Americas, health ministers from South America gathered in Uruguay to discuss how the region could coordinate its fight against the virus.
"Studies by the region's health ministries confirms there is cause for concern," Uruguay's health minister Jorge Basso told reporters. "The Pan American Health Organisation (PAHO) estimates there will be 4 million additional cases of infection from the Zika virus in the Americas region by the end of 2016."
Brazil's health ministry said the number of suspected microcephaly cases in newborn babies that may be linked to Zika was up.
A number of drug developers are trying to produce a vaccine to combat the virus .. but experts say that would take months or years to develop.
Warning for Europe
The WHO has warned EU member states that the risk of the virus spreading into Europe increases with the onset of spring and summer.
"Now is the time for countries to prepare themselves to reduce the risk to their populations," said the WHO's Europe chief, Zsuzsanna Jakab. "Every European country in which Aedes mosquitoes are present can be at risk for the spread of Zika virus disease."
Asia's largest drugmaker assembles team to help develop Zika vaccine https://t.co/Iv9glItMlwpic.twitter.com/wcDr95QrMo

— Bloomberg Business (@business) February 4, 2016