Zika is a mosquito-borne virus affecting large parts of Latin America and the Caribbean and spreading quickly through the region. There is currently
Zika is a mosquito-borne virus affecting large parts of Latin America and the Caribbean and spreading quickly through the region. There is currently no vaccine nor treatment for the disease.
Symptoms
Just one in four people infected with Zika develop symptoms. Therefore many cases of Zika go undetected, making it difficult to estimate the true scale of the outbreak in the Americas.
Zika symptoms are similar to those of dengue and Chikungunya, diseases spread through the same mosquitoes. They include fever, skin rashes, conjunctivitis, muscle and joint pain, malaise, and headache. These symptoms are usually mild and last for 2-7 days, according to the World Health Organisation (WHO).
But there is growing evidence that links Zika to microcephaly, a neurological disorder in which babies are born with smaller than normal heads and brains, according to researchers in Brazil and the Pan American Health Organization (PAHO), the regional arm of the WHO.
In northeast Brazil, there has been a marked increase in cases of newborn babies with microcephaly. In Brazil, researchers have been looking at 4,180 suspected cases of microcephaly reported since October. On January 27, officials there said they had analyzed more than 700 of those cases, confirming 270 cases and ruling out 462 others.
The virus has also been associated with cases of Guillain-Barré syndrome, a poorly understood condition in which the immune system attacks the nervous system, sometimes resulting in paralysis. "A causal relationship between Zika virus infection and birth defects and neurological syndromes has not been established but is strongly suspected," says the World Health Organisation.
Affected Countries
Three to four million people in the Americas could be exposed to the virus in the next 12 months, according to Dr. Sylvain Aldighieri, a unit chief for the WHO/PAHO. "The level of alarm is extremely high," said WHO Director-General Margaret Chan.
In May 2015, Brazil reported its first case of Zika virus disease. Since then, the disease has spread to 23 countries in the region, according to the WHO. The global health body has warned Zika will likely spread to all countries in the Americas except for Canada and Chile.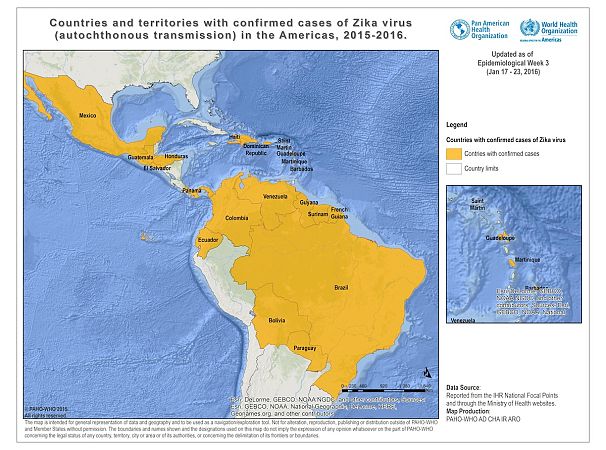 Brazil has the highest rate of infection, followed by Colombia. Zika outbreaks have also been reported in Ecuador, El Salvador, Guatemala, Haiti, Honduras, Mexico, Panama, Paraguay, Puerto Rico, Suriname and Venezuela, among other countries.
The virus has not yet been reported in the continental United States, although a woman who fell ill with the virus in Brazil later gave birth to a brain-damaged baby in Hawaii.
History
The virus was first identified in 1947 in a monkey in the Zika forest of Uganda. It was identified in humans in 1952 in Uganda and the United Republic of Tanzania. But for decades, the disease mainly affected monkeys and, in humans, occasionally caused a mild disease that did not cause much concern. Zika expanded its geographical range in the 2000's, reaching the Pacific islands and causing large outbreaks there in 2013-2014.
Last year, the virus was detected in the Americas, where it is now spreading "explosively," in the words of WHO chief Margaret Chan, who asked an emergency committee to meet on the issue on Monday, February 1.
Transmission
Zika is transmitted by the Aedes aegypti mosquito, which is also known to carry the dengue fever, yellow fever and Chikungunya viruses.
Research is under way into the effects of the Zika virus on pregnant women and newborn babies; information about the possible transmission of Zika from infected mothers to babies during pregnancy or childbirth is "very limited", PAHO says.
Prevention
Given there is no vaccine nor treatment for Zika virus, prevention is the best option and people are urged to follow the usual precautions against mosquito-borne diseases:
use repellent sprays
cover up arms and legs with clothing
keep doors and windows closed
drain stagnant water
Advice for pregnant women
Colombia's health ministry has advised women to delay becoming pregnant for six to eight months to avoid possible risks related to the Zika virus.
Jamaica has not reported any confirmed cases of Zika, but the health ministry has recommended women delay becoming pregnant for the next six to 12 months. El Salvador has advised women to avoid getting pregnant until 2018.
The WHO said women planning to travel to areas where Zika is circulating should consult a healthcare provider before travelling and on return. Zika can be transmitted though blood, and has also been isolated in human semen, but more evidence is needed to confirm if it can be sexually transmitted, WHO said.
Earlier this month, the U.S. Centers for Disease and Control Prevention (CDC) warned pregnant women to avoid travel to 14 countries and territories in Latin America and the Caribbean affected by the virus. France's health minister has also advised pregnant women to postpone travel plans to Martinique, French Guiana or the French West Indies because of the virus.
Map of countries affected by the Zika virus
WHO warns Zika to spread across Americas, spurring vaccine hunt via Reuters</a> <a href="https://t.co/R1ZMCu3NsG">https://t.co/R1ZMCu3NsG</a> <a href="https://t.co/dbq2qEyQOi">pic.twitter.com/dbq2qEyQOi</a></p>&mdash; InterAmericanSW (IASecurity) January 25, 2016
PAHO says there are no reliable estimates of the number of cases in the region. Based on reports from affected countries, PAHO estimates there are at least 60,000 suspected cases of Zika, though the real figure is thought to be far higher.
Sources: World Health Organisation (WHO), Pan American Health Organisation (PAHO), Centers for Disease and Control Prevention (CDC), Colombian Ministry of Health, US Navy and Marine Corps Public Health Center (NMCPHC).