Zika link to microcephaly may be weeks away, says WHO
Comments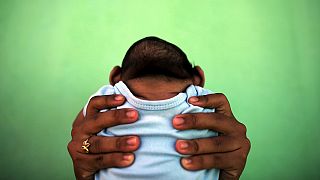 The World Health Organization (WHO) says a suspected link between the mosquito-borne Zika virus and microcephaly in newborn babies should be established within weeks.
Dr. Marie-Paule Kieny, a senior official from the organisation, told reporters on Friday (February 12) that a link between Zika and the neurological disorder Guillain-Bare in adults was highly probable.
She said it would take at least 18 months to start vaccine trials to combat the virus.
"Two vaccine candidates seem to be more advanced. One, is a DNA vaccine from US National Institute For Health, and the second is inactivated product from Bharat Biotech, an Indian vaccine manufacturer," said Kieny. "In spite of encouraging landscape, vaccines are at least 18 months away from large-scale [clinical] trials."
Microcephaly in babies born in Brazil is up
Brazil's health ministry says the number of suspected microcephaly cases in newborn babies has risen to more than 4,000. The condition, which may be linked to Zika, is marked by abnormally small head size, and can result in developmental issues.
The WHO has reassured pregnant women in areas affected by Zika that most will give birth to "normal infants."
Mosquito spraying stepped up
Pesticide spraying has being stepped up across the Americas, particularly in countries with the highest number of reported Zika cases: Colombia and Brazil.
The pesticide fog will kill adult mosquitoes.
Conversation: Zika's Potential Impact
Stratfor Deputy Editor Lynn Wise and Science and Technology Analyst Rebecca Keller discuss the geopolitical effects of the Zika virus.
"Conversation: Zika's Potential Impact is republished with permission of Stratfor."