'It's just not true' - Russia rejects claims that it's bombing civilians in Syria
Comments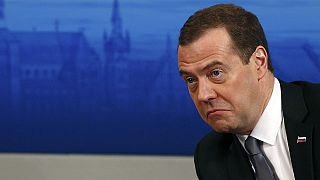 Russia has rejected accusations that it's been bombing civilians in Syria.
The denial came at a security conference in Munich, as Moscow pressed on with its campaign in support of President Bashar al-Assad.
This despite major powers agreeing on Friday to a pause in combat in Syria.
"There is no evidence of our bombing civilians, even though everyone is accusing us of this," Russian Prime Minister Dmitry Medvedev told the Munich conference.
"Russia is not trying to achieve some secret goals in Syria. We are simply trying to protect our national interests."
Medvedev spoke just moments after his French counterpart, Manuel Valls, called for Moscow to stop striking civilians.
"To find the path to peace and of negotiation again, the bombing of civilians has to stop," said Valls.
The agreement for a pause in combat – which will allow humanitarian aid in – will not take effect for a week.
Western powers say that without an end to Russia's bombing, there is little hope for Syria, where the continuing conflict has killed more than a quarter of a million people.