France and Russia increase air strikes on ISIL targets
Comments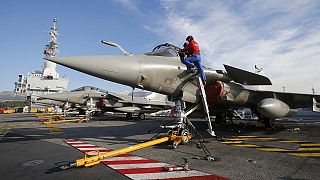 Russia has carried out new air strikes against Islamic State militant targets in Syria.
Moscow says its SU-34 bombers have started hitting ISIL's oil infrastructure.
However, Britain's Foreign Secretary Philip Hammond claims Russia has been attacking the moderate opposition in order to prop up the regime of Syrian President Bashar al-Assad.
France too has increased its air strikes, targeting the Islamic State's stronghold in Raqaa. According to the Syrian Observatory for Human Rights, at least 33 ISIL members have been killed over the last 72 hours.
France has also sent its nuclear powered aircraft carrier, Charles de Gaulle, to the Persian Gulf to expand its operations against ISIL.