Greek farmers protesting pension reform plans clash with riot police
Comments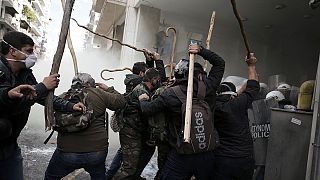 Violent clashes erupted in Greece as protesting farmers attempted to occupy the agriculture ministry in Athens on Friday (February 12).
Riot police guarding the ministry used tear gas to disperse the farmers who have planned to stay in the capital until Saturday.
 
It is the latest demonstration against controversial pension reform plans.
Bailout lenders are demanding farmers pay higher social security contributions and more tax.
Farming associations have been staging highway blockades for more than two weeks against the planned reform of the Greece's troubled pension system.
Greek prime minister Alexis Tsipras said he was willing to hold talks with the farmers on possibly amending the pension reform bill, but they rejected his offer.
Επεισόδια αγροτών: Η οργή των αγροτών σε απίστευτες φωτογραφίεςhttps://t.co/DL7gjwGUM7pic.twitter.com/phxi23Mfa7

— NewsIt (@NewsItFeed) February 12, 2016
Clashes erupted between riot police and farmers during a protest against planned austerity measures in Athenshttps://t.co/oO01GRRudp

— Ruptly (@Ruptly) February 12, 2016