France: two deadly crashes involving children in two days
Comments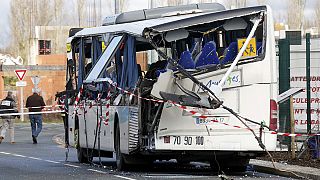 France has witnessed two tragic bus crashes involving children in the space of two days.
At least six dead in Rochefort
At least six teenagers were killed at around 7.15am local time on Thursday. French media report their school bus was struck by the slatted side of a truck as the two vehicles passed.
Fifteen pupils and two drivers were aboard the bus when the incident occurred in Rochefort town centre, in the west of France.
Two people were taken to hospital for treatment.
Both the bus driver and truck driver have been taken into custody.
Accident de Rochefort : le chauffeur du bus et celui du camion en garde à vue https://t.co/pl3OiOiQbSpic.twitter.com/zXQao8XA0e

— France Info (@franceinfo) February 11, 2016
At least two dead in Montflovin
A day earlier (February 10), a coach accident in the eastern commune of Montflovin killed a 12-year-old boy and a 15-year-old girl.
Seven children were injured when the driver lost control in snowy conditions.
After briefly being hospitalised, he was remanded in custody and is to appear before a judge on charges of involuntary manslaughter and injury on Thursday (February 11).
pics via multiple sources, bus accident in Dobus, France, at least 2 children died, 7 injured pic.twitter.com/6OyYjTZ0YE

— Khalid Khan™ (@khalidkhan787) February 10, 2016