Netanyahu pledges to protect Israel 'from predatory animals'
Comments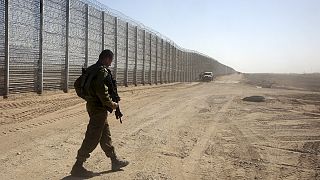 The whole of Israel will ultimately be fenced off for its own protection, Prime Minister Benjamin Netanyahu has vowed.
Inspecting the construction of a new barrier along the country's border with Jordan on Tuesday, he used strong language to evoke the threat.
"We will surround Israel in its entirety? The answer is yes. In the environment we live in, we need to protect ourselves from predatory animals," the Israeli premier told reporters.
Netanyahu: We'll surround Israel with fences 'to defend ourselves against the wild beasts' https://t.co/uw87jk4TuNpic.twitter.com/AGSTmQvLXG

— Haaretz.com (@haaretzcom) 9 Février 2016
The new 30 kilometre structure on the border with Jordan will stretch from Israel's resort city of Eilat to Samar, close to where a new Israeli airport is due to open next year.
The Netanyahu government fears migrants and armed jihadi infiltrators might try to reach Israel via Jordan.
Fences already built in the name of national security include a vast barrier cutting most of the West Bank off from Israel and East Jerusalem. Palestinians dub it an "apartheid wall" and an Israeli attempt to grab land Palestinians want for a future state.