Victim, activist, heroine. Who was Masika?
Comments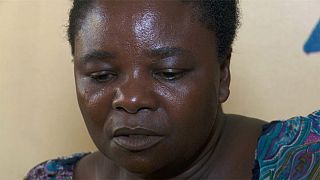 Rebecca Masika Katsuva, known simply as Masika, died on February 2 in the Democratic Republic of Congo from complications due to malaria. She was 49.
In 2012, our journalist Valérie Gauriat carried a report about Masika's work.
Here Euronews takes you through who she was and the contribution she made.
What does living on Buganga look like for 3 days? pic.twitter.com/kQLKXjnj

— Trevor Waldock (@Teboa) January 29, 2012
Over the years, hundreds of women have flocked to Buganga in South Kivu province.
Thanks to Masika, the village has become known as a place of refuge and rejuvenation for anyone who is a victim of sexual violence.
Masika, a Congolese who turned her own rapes into help for women, dies at 49. RIP, hero! https://t.co/JJqUvK6FTgpic.twitter.com/gwV4tcqlVT

— Nicholas Kristof (@NickKristof) February 8, 2016
A victim of sexual violence herself, in 2000 and with the help of the International Red Cross, Masika started helping other women who have been targeted
She brought victims to safety in the village of Buganga in South Kivu province.
The recovery program included practical support (many had been forced to flee their homes), private counselling and group work.
They were given work producing agricultural products to be sold in the surrounding communities.
Masika founded the

APDUD

association – the Association of Disinherited People United for Development.
In pictures and in tweets
Hommage à Masika, l'une des héroïnes de la RD Congo https://t.co/ZezCQcEJYQ

— Afrofeminista (@afrofeminista) February 9, 2016
Remembering Rebecca #Masika: "even in the most difficult situations, hope never dies" https://t.co/qC1kYtlrvH#DRCpic.twitter.com/5FZ89uV1jv

— Front Line Defenders (@FrontLineHRD) February 8, 2016
#DRC lost a heroic women's rights activist in Rebecca Masika Katsuva. https://t.co/7KJkhQy1sApic.twitter.com/Wxv3B7aOIp

— Edward Herbert (@ed_herbert) February 8, 2016
So sad! Yes Masika was a hero ida_sawyer</a> We had met in 2012;may I share portrait as tribute <a href="https://t.co/hQyFzxQQJZ">https://t.co/hQyFzxQQJZ</a> <a href="https://t.co/bWwBWP1DDX">https://t.co/bWwBWP1DDX</a></p>&mdash; Valérie Gauriat (valgauriat) February 5, 2016
What they are saying
The Democratic Repubic of Congo lost a hero this week(Human Rights Watch)
A heroine whose work will continue to inspire us(United Nations)