FYROM reinforces border fence to limit refugees
Comments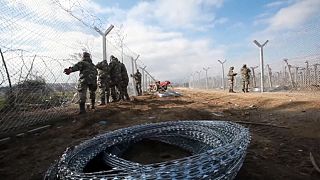 Authorities in the Former Yugoslavian Republic of Macedonian have begun reinforcing a barrier at its border with Greece in a bid to limit the number of migrants entering its country.
The army confirmed on Monday that construction was underway to create a second layer of fencing. The move accompanies a toughening of entry criteria for refugees.
More than 1 million people fleeing poverty, war and repression in the Middle East, Asia and Africa reached Europe's shores last year, most heading for Germany. More than 62,000 arrived in Greece last month.
Balkan states along the route have begun denying passage to all those not coming from conflict regions of Syria, Iraq or Afghanistan.