Migrant crisis: Turkey-EU 'lack of trust' slows action
Comments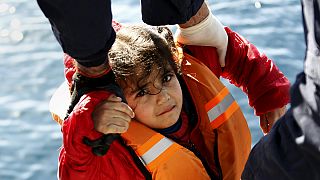 Last November, the EU struck a deal with Turkey to try and stem the flow of refugees from the country.
It's just not acceptable that Turkish and European tax-payers spend billions on helping those poor refugees - a good thing in itself - but while well-known human traffickers are cashing in billions too
As the European Commission prepares to assess its progress, euronews has spoken to Marc Pierini, former EU ambassador to Turkey and researcher at Carnegie Europe.
Gulsum Alan, euronews: "Is it a realistic agreement? Do you think it will work?"
Marc Pierini, Carnegie Europe: "It was a kind of horse trading by the EU and Turkey, which had no chances of working, or which at least would have immense difficulties. And that's where we are now.
"The difficulties are part and parcel of the conception, as it's about trading promises on visas and on accession talks against help for refugees, which are things that have no link between each other."
euronews: "How should Turkey manage the influx of refugees, which is constantly increasing, while at the same time, make sure they don't head towards the doors of the EU?"
Marc Pierini: "The problem is that on the Aegean coast, there is a mafia that makes astronomic profits, a billion euros, if not two billion euros during 2015, by essentially sending people to death.
"It would be enough for the Turkish police, who are perfectly equipped, to really intervene – to catch people you can see in internet videos, on cameras, in Izmir or in Bodrum."
euronews: "It's really that simple?"
Marc Pierini: "It's not necessarily that simple, but it's something that hasn't really been addressed. The new influx of refugees was predictable. And now we're in a double paradox situation.
"Turkey says 'we don't let them enter for the moment – but we will do so, when it's necessary.' And the second paradox: the EU says 'you have to let them enter – but you have to keep them.'"
euronews: "Is there a lack of trust between the two parties? Why is there this blockage?"
Marc Pierini: "The problem, as you say, is the lack of trust. The only English speaking newspaper in Turkey has spoken of 'the perversity of the European Union'… That's not really a climate of cooperation. That's a climate of distrust. It's the same thing on the European side."
euronews: "But turkey already hosts almost three million refugees."
Marc Pierini: "Less the million that has left for Europe. The figures keep changing, but Turkey hosts many refugees, the country has been very generous.
"The 15 percent of those refugees who are in camps are very well treated – the others try to eke out a living on their own savings.
"But Europe will have to talk with Turkey on the police-aspect of the problem.
"It's just not acceptable that Turkish and European tax-payers spend billions on helping those poor refugees – a good thing in itself – but while well-known human traffickers are cashing in billions too."