More problems at FYROM-Greek border slows refugees' journey north
Comments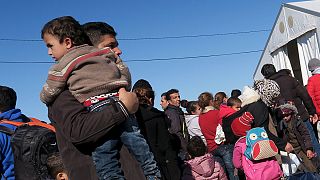 Soldiers of the Former Yugoslavian Republic of Macedonia have begun erecting a second, bigger wall just five metres from the border fence with Greece it rushed to put up last November.
The Greek border has become a crowded place. Along with the thousands of stranded refugees awaiting permission to move on further north, there are now two groups
grappling with first-world problems before their eyes.
Macedonian taxi drivers were banned from taking refugees across the border from Greece after some were found to be ruthless gouging prices. Now, angered that only buses are being hired, they are protesting for their share of the trade.
Their actions and clashes with police are leading to further border delays. Add to that Greek farmers continuing their action at the frontier against government austerity, and it is little wonder many refugees are deciding to head off on foot, tired of the waiting and squalor at the border.
"I don't know why they have closed their border. We do not want to stay in their country, I don't know why. Just we want… also food is not important for us, we just want to leave here," said Yassar from Damascus.
The demonstrations mean the coaches that brought these refugees here, and the ones supposed to ferry them elsewhere, are stuck, lined up surrounded by a sea of people.
Nighttime temperatures are freezing and there is little or no food, water or shelter for those who have no option but to stay.
More than 62,000 new refugees and migrants arrived in Greece in January.