US: Cars parked on frozen lake rescued after ice cracks
Comments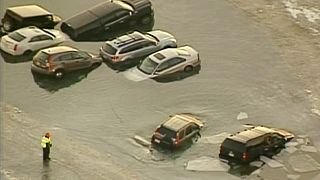 You will have heard of skating on thin ice, but how about parking?
It was not such a good idea on a frozen lake in Wisconsin, in the US.
Aerial images of Lake Geneva showed cars partially immersed in water, after the ice cracked under the weight of the vehicles.
Some of the cars, parked up for Lake Geneva's Winterfest celebration, had to be dragged ashore.
The vehicles were unoccupied and there were no injuries reported.