Migrant crisis: Turkish police raid factories producing faulty dinghies
Comments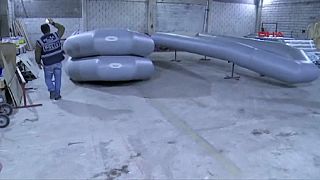 Turkish police have raided three factories producing unlicensed and faulty dinghies, according to local media reports.
Almost 50, deemed to be dangerous, were seized in the western province of Izmir.
Dinghies are the boat of choice for traffickers and migrants trying to get to Greece.
Turkish police have also been cracking down on defective life-jackets in recent months, launching operations in Istanbul and elsewhere.
More than one million refugees and migrants arrived by land and sea in the EU last year, many of them crossing from Turkey to Greece. A further 3,600 died or went missing.
Winter conditions are not deterring all. Hundreds more people have already lost their lives so far this year.