Syrian donors' conference calls for $9 billion
Comments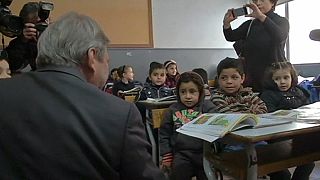 Seventy world leaders to attend Syria donors' conference
UN hopes to raise $9 billion to secure futures for refugees
Aim is to avoid a 'lost generation'
The fourth Syria donors' conference opens in London on February 4 with the aim of raising money to fund projects to help secure the futures of millions of refugees who have fled the conflict which has entered its sixth year.
The money in particular is intended to help those countries which are bearing the brunt of the crisis, housing feeding and clothing some four and a half million Syrians.
#Syria Donor Conference to focus on education/jobs: building blocks of hope #SupportSyrianshttps://t.co/YPGfIOirIEpic.twitter.com/EgxJOXg9Wz

— UN Radio (@UN_Radio) February 3, 2016
Lebanon and Jordan in particular are struggling to cope. Jordan has warned that the "dam could burst" if it did not receive more support to deal with the estimated 630,000 refugees on its soil.
Ahead of the conference EU Commissioner Johannes Hahn went on a fact finding mission to a Beirut school where teachers are double-shifting to teach Syrian refugee children as well as their own Lebanese pupils. Lebanon is providing 200,000 youngsters with some schooling but that still leaves 300,000 with no access to education.
"The London conference should help to raise money in order to provide countries like Lebanon being affected by the Syrian refugee crisis, so with additional funding in order to accommodate with all the challenges for instance caused by the many, many refugees and the need to provide education to give young children the opportunity to attend schools," said the Commissioner Hahn.
In Jordan Abu Yasser who is a refugee from Damascus described how he is struggling to provide for his family on a refugee camp in Amman:
"I have been unemployed for eight months, and I hope that Jordan will receive enough support from the London conference, and that the conference will support investments in order to create jobs for Syrian refugees. The living conditions in Jordan are very difficult, and the aid we receive from UNHCR (United Nations High Commissioner For Refugees) is very little, its not enough."
Save the Children
As seventy world leaders attend the conference, children's charities are urging them not to allow the Syrian conflict to create a lost generation. To make their point Save the Children and UNICEF recreated a destroyed Syrian classroom outside the British Parliament.
The charities are asking international governments to protect children, schools and teachers from attack, guarantee education for children in Syria and refugee host countries, and for donors to commit more than $1.4 billion annually to ensure children are in education.
Every Syrian child should have the chance to go to school https://t.co/yXrrdciGlCsavechildrenuk</a> <a href="https://twitter.com/hashtag/SupportSyrians?src=hash">#SupportSyrians</a> <a href="https://t.co/2TvagY9iLz">pic.twitter.com/2TvagY9iLz</a></p>&mdash; Unicef UK (UNICEF_uk) February 4, 2016