Cruz beats Trump in Iowa nomination contest
Comments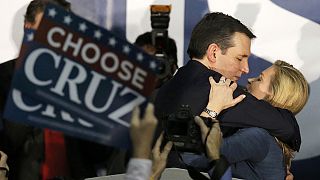 In a shock result US conservative candidate Ted Cruz has beaten billionaire Donald Trump in Iowa's Republican presidential nominating contest.
Cruz who is a lawmaker from Texas won with 28 percent of the vote compared to a likely 24 percent for businessman Trump.
The result has dealt a major blow to national front runner Trump whose supporters had been confident of a win. It was thought a high turnout would have worked to Trump's advantage with young first time participants but it seems the evangelical vote has prevailed.
There was also an unexpected strong showing by foreign policy hawk Marco Rubio who appears to have come in third although the final count could see even him come out ahead of Trump.
There were 11 Republican candidates standing in Iowa. None of the rest managed to poll above 10 percent. Former Arkansas Governor Mike Huckabee said he was suspending his campaign for the Republican party nomination. Huckabee won the Iowa caucus in 2008.
Iowa was the first of 50 states to pick nominees for the Nov 8 election to succeed President Barack Obama.
Iowa lays ground for THREE-WAY: Cruz born again/Tea Party, Trump blue-collar newcomers, Rubio mix of conservs/estabhttps://t.co/3aglV7AptV

— Jonathan Martin (@jmartNYT) February 2, 2016