Washington correspondent: "it wasn't really Trump's natural habitat"
Comments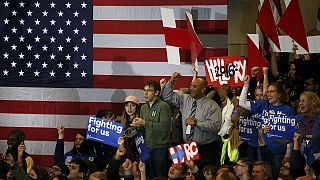 Former Secretary of State Hillary Clinton has claimed a narrow victory over US Senator Bernie Sanders in the Democratic nomination contest in Iowa, the closest in the US state's Democratic caucus history.
On the Republican side, US Senator Ted Cruz defeated real estate mogul Donald Trump, creating a three-way competition with candidate Senator Marco Rubio.
Euronews reporter Mark Davis spoke to our Washington correspondent Stefan Grobe as the results emerged.
Mark Davis, euronews, Lyon: "So it's first blood to Ted Cruz in the Republican race but a tie in the Democrat contest as this long election process gets underway. Joining us from Washington is our correspondent there, Stefan Grobe.
"Stefan, dramatic stuff! Let's start with the Republicans, Ted Cruz's victory defied the polls, which had Donald Trump ahead. Has Trump maybe peaked too early?"
Stefan Grobe, euronews, Washington DC: "Well Mark I think we're going to find out what kind of candidate Donald Trump really is. This was the very first time ever his name was on a ballot and he lost. And he also lost the aura of being the inevitable candidate who can get things done, who is the born winner.
"On the other hand it wasn't really Trump's natural habitat; Iowa with a large number of evangelical Christians, this was Ted Cruz's turf, the conservative senator from Texas and he won by in the end quite a substantial margin."
Mark Davis: "And many of us observing from outside the US may find it a surprise that Hillary Clinton couldn't win Iowa. What can you tell us about Bernie Sanders, what are his chances of actually getting the nomination?
Stefan Grobe: "Bernie Sanders scored well in Iowa and he'll certainly score well in New Hampshire next week which is a neighbouring state of his home state, Vermot, because these states are not typical they are not diverse they have almost no minorities.
"Hillary Clinton banks on the fact that she's strong in the big states where she can play out her advantages with women, with Latinos, with African Americans. But the lesson that she learned in Iowa is: never underestimate Bernie Sanders."
Mark Davis: All the focus now turns to New Hampshire for Round 2. How does tonight's unforeseen outcome change the race and the stakes in New Hampshire?
Stefan Grobe: "The polls in New Hampshire suggested a big lead and a big win for Donald Trump and a big win for Bernie Sanders. If Trump cannot win New Hampshire, if he can't pull this thing off, his campaign will be in serious trouble. On the other hand Hillary Clinton looked so badly in the polls versus Bernie Sanders that even a loss by 5 or 7 points will look quite positive for her."